Big moment, big savings!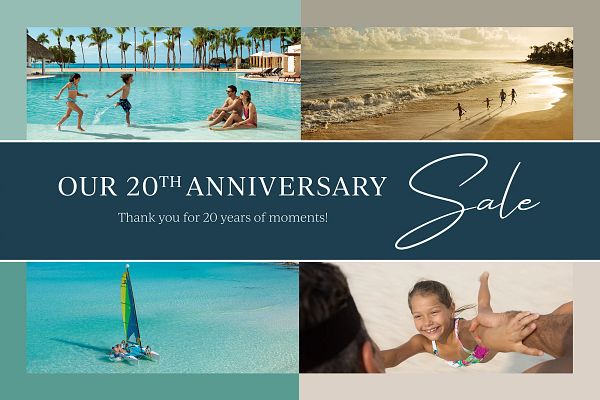 Cheers to 20 years!
Life is a series of moments, and we're celebrating a big one. Enjoy
up to half off
in honor of our 20th anniversary! Plus, receive these additional perks to make every moment of your trip extra special:
$20 kids stays at select resorts (for up to 2 kids)
Free night on a future stay*
Book:
Now – November 22, 2021
Travel:
Now – April 9, 2022
*Exclusively for guests celebrating a 20th birthday or 20th anniversary during your original stay
Terms & Conditions
AMR™ Collection 20th Anniversary sale is valid on new bookings made from September 14, 2021 until November 22, 2021 for travel September 14, 2021 until April 9, 2022 at any AMR Collection property in the Americas. Travel period may vary by property and is subject to change. As part of this promotion, guests will receive Savings up to Half Off, $200 in resort coupons, plus additional added values. Celebrate your 20th birthday or 20th anniversary at a participating property and receive a certificate for one (1) free night on a return stay. Guests staying at a Zoëtry Wellness Resorts & Spas, Secrets or Breathless Resorts & Spas will receive a $20 spa treatment per person, per room. Book at select Dreams, Now, or Sunscape Resorts & Spas and kids stay for $20 per child, per night on select travel dates.
The published price reflects the savings when you select 20th Anniversary Sale during booking. The savings vary by resort and room category and are not reflective of the rates for the entire travel period.
$20 kids is only available at select Now Resorts and includes up to two children at $20 per kid on select dates*. Any additional kids will be charged the full kids rate. $20 kids is available from January 1, 2022 to April 9, 2022. Applicable dates vary by market.
Guests who celebrate their 20th birthday or 20th wedding anniversary at a participating property during the 20th Anniversary Sale will receive a certificate for one (1) free night on a return stay. Birthday or anniversary must fall during the original stay. Guest must show proof at check-in to qualify [Passport (or government ID for locals) qualifies as proof of 20th Birthday. Copy of marriage certificate qualifies as proof for 20th Wedding Anniversary]. Only one certificate can be earned per room, per stay. The certificate will be issued to any qualifying guest at checkout and is valid for travel up to one (1) year from the issue date. Reservation must be made at least 30 days prior to arrival. Return stay must be a minimum 5-night stay and can be redeemed at any AMR Collection property in the Americas. Certificate must be presented at time of check-in. Return stay is based on availability at time of booking. Certificate hold no cash value, cannot be deducted from cost of original stay and is non-transferable.
Entire promotion is subject to availability and can be modified or closed at any time. 20th Anniversary Sale is combinable with Kids Stay Free**, social groups and groups programs when terms for both are met. It is not combinable with Deal of the Day promotions, any new hotel opening promotion and may not be combinable with other promotions or special offers. Blackout dates and other restrictions may apply and vary by property. No rebooks or rollbacks allowed. Promotion may not be available in all markets.
*$20 Kids valid at Now Amber Puerto Vallarta and Now Emerald Cancun.
**Kids Stay Free is valid only at Dreams, Now, and Sunscape Resorts & Spas. Kids Stay Free is valid from September 14, 2021 to November 22, 2021 and from November 28, 2021 to December 22, 2021. Dates vary by market. Kids Stay Free is not available at Dreams Bahia Mita Surf & Spa Resort.
Resort Coupons
Guests will receive $200 in resort coupons per room, per stay.
$200 resort coupons include four coupons worth $10 each, two coupons worth $20 each, and three coupons worth $40 each. Of these coupons, $100 can be used for spa treatment, $60 for romantic dining, and $40 for wine purchases. Spa treatment coupons are broken down into one coupon worth $20 and two coupons worth $40. Romantic dining coupons are broken down into one coupon worth $20 and one coupon worth $40. Coupons for wine purchases are broken down into four $10 coupons.
Resort coupons for spa treatments are not combinable or valid for spa products at the Spa Boutique or 25-minute massages and treatments. Only one coupon can be redeemed per spa treatment. Coupons for romantic dining are combinable up to $60 per romantic dining experience, but not valid for bottles of wine. $10 coupons for wine can be used at any of the restaurant on property. They are not combinable – only one $10 coupon can be applied toward one bottle of wine.
Resort coupons cannot be applied toward the following items: beauty salon services, spa product purchases, telephone charges, dolphin experiences, gift shop purchases, boutique purchases, internet service (if applicable), marina services, dive shop, medical services, car rentals and travel agency services. They are not applicable for tips, taxes, private functions and/or special events such as Christmas and New Year's Gala dinners.
Resort coupons must be redeemed at the time of reservation or service. Resort coupons do not hold any cash or commercial value, are not refundable and non-transferable. They are not accumulative and cannot be combined with any other promotion or special offers including, but not limited to spa treatment discounts, unless otherwise indicated in the promotion. They are only valid during the original stay and cannot be deducted upon check out. Resort coupons are not applicable to group bookings.